"Ta chi ta sa_" Exhibition 2023
Tachitasa confronting Barnett Newman in Washington, D.C.
Tachitasa vs The Stations of The Cross, Be II
Takako Ihoda vs Barnett Newman
Date
Tuesday, January 17, 2023 ~ Saturday, January 28, 2023 (Closed on Sunday)
12:00pm~19:00pm -17:00 on the last day
Gallery
Ningyocho Vision's (Free Admission)
https://visions.jp/
2-2-9 Nihonbashi Horidome-cho, AS Bldg. 1F, Chuo-ku, Tokyo, Japan 103-0012
Copyright credit
©2022 Barnett Newman Foundation New York / ARS,NY / JASPAR, Tokyo E4980
Event
Live Talk Show the 28th, 2:00 p.m. ~Guest : Kenichi Takeda
Closing Performance: the 28th, 5:00 p.m. ~ "Disassembling the Exhibition and Standing at the Same Time,"
Cooperation Staff
Technical support: Umeo Saito (FLEXTONE)
Carpentry Work: Kanako Tani, Seiji Miyagawa
Translation: Kenichi Takeda , Akiko Tokai
Event Staff: Hatsuyo Kato
Partially subsidized
ASAHI Group Arts Foundation
Handout
Leaflet A3 folio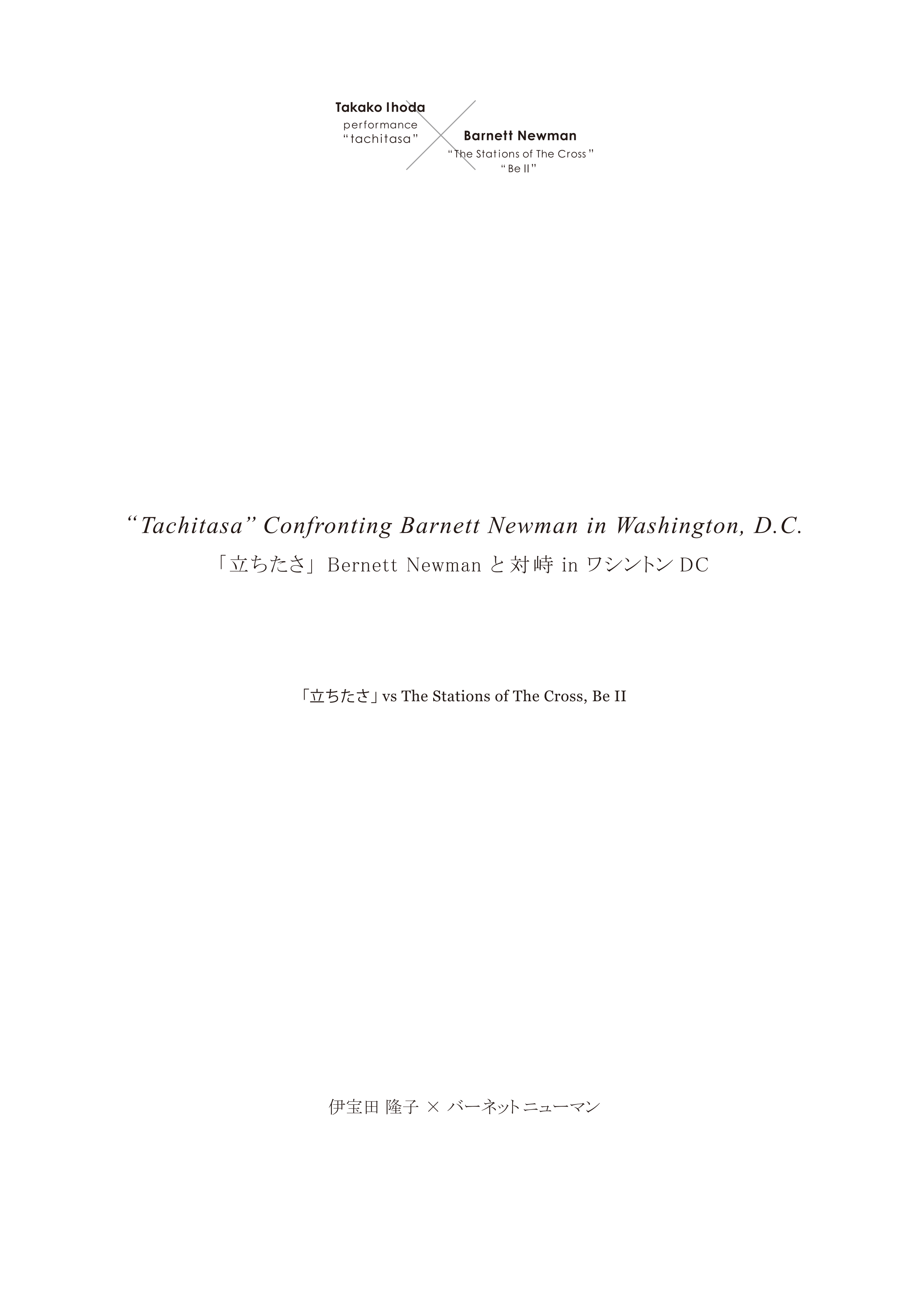 Please contact us using the inquiry form if you would like to view the site.
Motivation for this Exhibition
This is the third in a series of "Tachitasa" acts in front of Barnett Newman's paintings that Ihoda has been planning since 2015. This performance was held at the National Museum of Art in Newman's home country, the United States. Communicated with the museum since 2019, and official permission was granted in January 2020. The project was postponed due to the COVID-19 pandemic, and took place in September, 2022.
The year 2020 marked the 50th anniversary of Newman's decease. Although there were no commemorative events, Newman was a very important artist in the history of art, who led the Abstract Expressionist movement. I was organizing this exhibition in the hope that by performing and exhibiting Newman's work together, I will be able to provide an auxiliary line for interpretation of Newman's work today, if only in a small way.
(Autumn 2022)
Messages
Dear Takako, This is a beautiful sketch, really a piece of concrete poetry. Speaking of poetry, it reminds me of a line from The Four Quartets by T.S.Eliot (widely read by the Abstract Expressionists): "Humankind cannot bear very much reality."
Harry 01.13

Dear Takako, Thank you for acknowledging me & Emily. I see no problems with any of the English text. I like the photograph a lot. Good luck with the exhibition!
All good. Text is fine, photographs beautiful.
Harry Sent from my iPhone
** *

Harry Cooper / Senior Curator and Head of the Department of Modern and Contemporary Art
Impressions
From the Impressions Notebook
I stopped by on my way home from work. For 50 minutes, I felt my head became gradually empty. It was very refreshing to see people and the world of art, which we don't usually come into contact with.
I felt energy.
I thought you were straightforward. It was interesting.
I feel like I was able to surrender myself to confront Takako's actions.
It was so interesting that I didn't realize that the bell The bell ringing during the performance was coincidental. I thought about the relationship with mindfulness.
I was greatly stimulated intellectually and aesthetically. The work seems to be very expansive, and I felt that there could be some fusion with various people and places in the future.
The video was very quiet, but I felt energy. while watching it. I spoke with Takako in person, so it was inspiring.
It was very powerful. I was able to reconfirm that art and poetry make us feel alive.
I was moved by the shortness of the word "tachitasa" and the long time it means.
It was relaxing, and I enjoyed so much.
I was impressed by the wonderful muscle strength and the strength of the trunk axis.
I got drawn into her performance. There is something fascinating about Tachitasa. I wished I could always feel a sense of timeless as I did today.
It was interesting to realize that the camera's position gave different impressions of the images. The beauty of the outer shape was best captured by 1, and the flow inside the body was best captured by 3. I was a little bothered that the time was being held up in the middle.
I think Newman put a vertical human presence in his zip. It was a wonderful performance that corresponded beautifully with that.
The verticality of the paintings and the process of standing up together brought up various images in my mind, which came and went and then disappeared.
I was wondering what would happen next when I saw the images, but it was quite different from what I thought it would be. Why is that?
It was the first time since the performance in Amsterdam. "Tachitasa" in Washington was another new experience for me.
You stood vertically, stitching up against the painting that surrounded the space. The last agony of Christ, sublimating the agony of feeling cold when you were lying on the floor, and the presence of the Corona disaster. I felt deeply that the present moment of the Corona Disaster was sublimated by the power of the vertical ascent.
I was able to get a new perspective on "Tachitasa". It's wonderful that you're betting your life on the simple theme of standing. I can watch the video all the time.
I thought that people go through the process of "sitting" in the middle of "standing".
It was interesting to see the change in the silence.
This time, I watched it with great interest. I found it interesting in three ways. Also, I remembered a video of germination (a video I watched in science class, where a seed sprout sprouts at double speed?).
No Joruri, no method, no butoh performance. Non-dance, drawing, gesture, unconsciousness, posture.
It was beautiful. I thought about it again, but I wanted to know if Ms. Ihoda's "tachitasa" was an act of her own impulse, or an act of seeking something like "a person who understands the soul."
I am glad I came to see Newman's vertical lines, the shape of the costumes, the continuous movement, and the various things I could see in the white cube.
Isn't it a great experience that can only be experienced at this time, this feeling, this body, "standing"? Keeping working on something matters.
I realized that life is a series of moments. Each moment that is not special is special, but it is not special 4either. It is an expression, but it is not an expression, and although being alive is an expression in itself, it is not a triumphant "I'm expressing myself! I was thinking about these things.
It was like a representation of time.
I felt like I was there!
I saw it for the first time. I felt a strange sensation of being absorbed into the world, and I was able to be at peace with myself. It is difficult to describe the feeling. It was as if I was gazing at the scenery in nature. Thank you very much.
It was the first time for me to see the "standing still". It was interesting to see that it seems to be pulled by something, and that it seems to be standing while struggling against it.
It was interesting to see various expressions and styles on three sides of the display at the same time. The minimalist paintings of Newman and the orange clothes contrasted beautifully with each other and made me feel the confrontation between life and death.
The colors are wonderful. Movement and figure give birth to poetry. The flow of performance produces energy, encouraging the viewers.
The concentration is amazing...!
I watched the video without prior knowledge. I wondered what she was thinking while performing. After watching the video, I was convinced by the notes (design document?) at the venue. I could understand even more deeply how she was thinking (feeling) about it!
I felt gravity through Takako today.
---